Scotch-Brite™ Roloc™ SE Surface Conditioning Disc
Product Description
Use Scotch-Brite™ Roloc™ SE Surface Conditioning Disc for heavy duty deburring and finishing. Our discs are combined with the 3M™ Roloc™ quick-change attachment system for the convenience and efficiency of quick and easy disc change outs. The fibre construction of the discs conforms well to help preserve irregular or contoured surfaces and the Roloc backing supports the disc to allow for aggressive cutting. The open web fibre runs cool and resists loading, while the sharp cutting aluminium oxide abrasives provide consistent finishing. Aluminium oxide is a tough durable abrasive that continually self-fractures during use to expose fresh cutting edges. It's fast cutting and long lasting, compared to traditional abrasives such as garnet, which quickly wear down with use. Aluminium oxide mineral is widely used in grinding, sanding and finishing for its high cut-rate, hardness, strength, and low heat retention. It can be used on a range of substrates in both woodworking and metalworking, including ferrous alloys. Scotch-Brite surface conditioning products with abrasives incorporated into non-woven nylon or synthetic fibres. Combining abrasives with the fibres creates an abrasive system that delivers consistent results for the life of the product. The open-web material runs cool, reducing the risk of part discolouration and warping. The fibres are load resistant and keep the abrasive minerals cutting at high performance by limiting clogging of the fibres, which also extends the life of the disc. 3M Roloc Quick Change Attachment System provides a secure attachment even for heavy-duty applications. We offer a variety of Roloc discs for fast and easy swapping between applications. Discs are colour coded for easy identification. 3M Roloc TR, TS, and TSM quick change discs are smaller discs that easily and quickly attach onto a Roloc disc pad* for convenient disc change between tasks or in multi-step finishing processes.
Course, tough non-woven disc aggressively deburrs and finishes
Open-web construction resists loading and runs cool, producing consistent finishes
Conformable disc conditions surfaces without gouging, undercutting, or damaging the base material
Convenient 3M™ Roloc™ attachment system offers quick and easy disc change-out for multi-step finishing processes
Applications
Heavy Duty Deburring
Finishing
Woodworking
Metal Working
Ferrous Alloys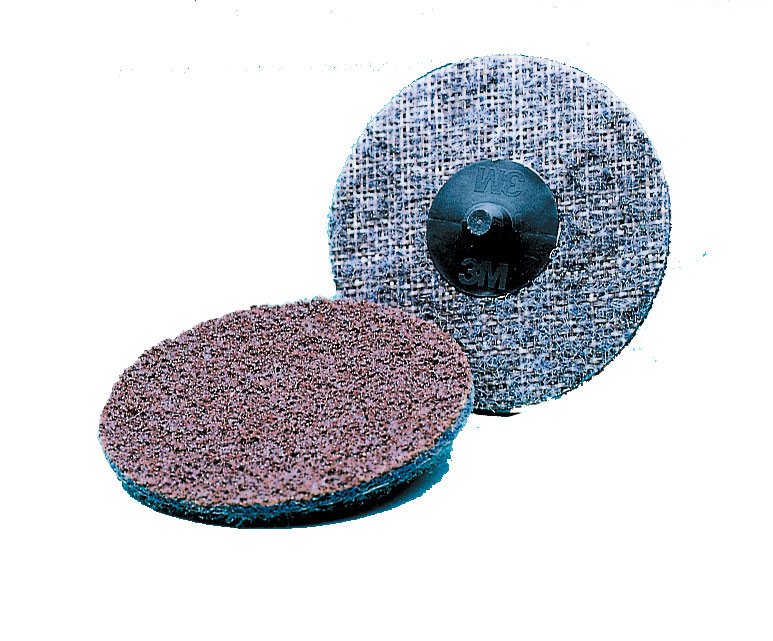 Specifications
Application Category

Blending/Deburring

, Grinding/Metal Stock Removal

Attachment Type
TR
Back Color
Blue
Brand
Roloc™
Equipment – Machines
Disc Sanders
Form Type
Disc
Grade
Coarse
Health and Safety

Eye Protection

, Hand Protection

, Hearing Protection

Max RPM
18000
Mineral Type
Aluminum Oxide
Position
Better
Product Form
Disc
Substrates
All Metals
Want to become a Distributor?
Speak to us today about our full product range