PL31 Finishing Paper Roll
Product Description
he semi-open coating ensures that the swarf is cleanly removed from the surface. It also delivers exceptional grinding performance at only moderate stock removal. This technology is a particularly good choice for all applications on hard wood, varnish, paint and fillers. The abrasive roll PL 31 B can produce coarser or exceptionally smooth surfaces depending on the selected grit. While a coarse grit is primarily recommended for smoothing out surfaces or chamfering edges, a fine grit – 220 or higher – is the grit of choice for surface finishing. It is advisable to break up the grinding process into multiple steps to ensure optimum efficiency and perfect results. You start off by working with a coarse grit first. You then proceed with a succession of finer grit sizes until you produce the desired result.
Optimized for hand sanding and handheld machine sanding
Applications
Paint
Varnish
Filler
Wood
Metals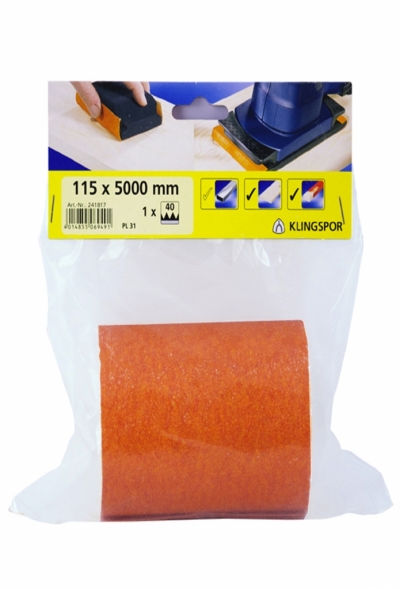 Specifications
| | |
| --- | --- |
| Grades Available | 40,80,120 |
| Packing Unit | 1 Assortment of 5 rolls |
| Bonding Agent | Glue |
| Grain | Aluminium Oxide |
| Coating | Semi-open |
| Backing | B-paper |
Want to become a Distributor?
Speak to us today about our full product range