3M™ Aura™ Disposable Respirator, FFP1
Product Description
The 9300+ Series combines ground-breaking ideas, technologies and materials in a convenient three-panel, flat-fold design. Suitable for a broad range of industrial applications, the innovative comfort features help to ensure that the respirator is worn consistently over long periods.

Get FFP1 protection against dust and mists in a wide variety of industrial applications and other hazardous environments with 3M™ Aura™ Particulate Respirator 9312+. Our 3-panel design allows for greater facial movement, while the sculpted, low-profile style of the embossed upper panel creates an effective seal, reduces eyewear fogging and improves eyewear compatibility. It features the 3M™ Cool Flow™ Valve that helps reduce heat build-up in hot and humid conditions, and the low-resistance filter technology helps you breathe easily. The flat-fold design makes it convenient to store when not in use, and the innovative chin tab allows you to make simple adjustments. The braided, colour-coded headbands help you identify the protection level offered: yellow for FFP1 (NPF 4). This respirator is individually packed in hygienic wrapping to protect against contamination and is designed to work well with 3M Eyewear and Hearing Protection products. For full product certification and specifications, click here: Respiratory Products Certificate Selector.

High-Performance Filter Material: 3M™ Advanced Electret filter material helps wearers to breathe easily through the respirator for more comfortable protection.
3M™ Cool Flow™ Valve: The Cool Flow valve reduces heat build-up inside the respirator – even in hot and humid conditions.
Unique 3-panel design: Accommodates greater facial movement during speech.
Embossed top panel: Reduces fogging of eyewear.
Sculpted nose panel Improves compatibility with eyewear.
Innovative chin tab: For ease of fitting and adjustment of the respirator on the face.
Hygienic packaging: helps protect the respirator from contamination before use, also allows practical storage and dispensing in the workplace.
Colour-coded headbands offer easy protection level identification – colour coded yellow: FFP1 (APF = 4).
3M™ Cool Flow™ Valve reduces heat and moisture build-up to offer workers comfortable protection – even in hot and humid conditions.
Maximum usage level: Up to 4 x TLV.
Applications
Industrial applications
Hazardous environments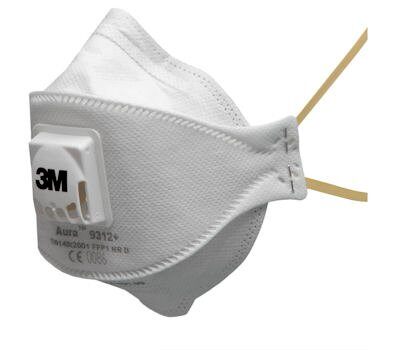 Specifications
Cool Flow™ Exhalation Valve
Yes
Natural Rubber Latex Components
No
Particulate Respirator Range
Comfort
FFP Rating
Class 1
European Standard 

CE Approved

, EN 149:2001+A1:2009 FFP1 NR D

Valved
Yes
Want to become a Distributor?
Speak to us today about our full product range