SMT 325 Extra Abrasive Mop
Product Description
This abrasive mop disc is a popular choice for edges and surface work on stainless steel and steel

in metal fabricators,
in plant engineering and
in steel construction.

Versatile flap disc supported on a plastic backing plate

The abrasive mop disc SMT 325 Extra is made up of a plastic backing plate Suitable for a wide range of use cases, the flap disc is available both as a flat and a convex type. The convex type delivers higher stock removal per unit of time compared to the flat type. This quality makes the convex type of this flap disc a particularly well-suited option for work on edges and seams. Meanwhile, the flat type is the better choice for grinding flat surfaces.
Applications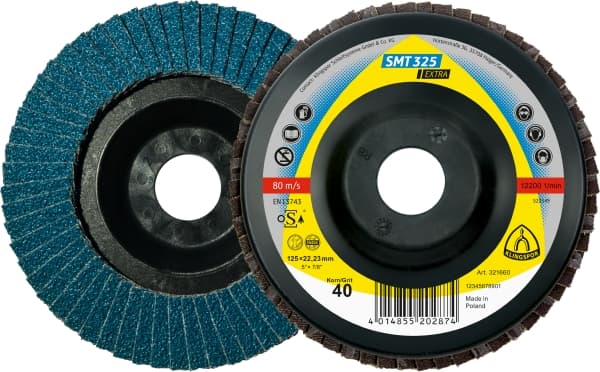 Specifications
| | |
| --- | --- |
| Grain | Zirconia Alumina  |
| Backing Plate | Plastic, glass-fibre reinforced |
| Design | Convex 12°, flat |
Want to become a Distributor?
Speak to us today about our full product range