Product Description
The HST 359 is generally suitable for all applications. Every specific application is matched with the perfect abrasive – aggressive grinding, deburring, rust removal, finishing, polishing or final surface treatment. The HST 359 backing pad for self-fastening discs can be combined with all abrasive discs that Klingspor offers with a self-fastening backing.

Which abrasive is right for the job?

Every application must be matched with the abrasive that is best suited for the job. Rough sanding requires a coarse grit size, while fine sanding or polishing jobs need to be performed with a fine grit size. Hard materials, such as glass, ceramic or mineral-based materials, require a grain of sufficient hardness, while soft, yet tough, materials are sanded with one of three kinds of aluminium oxide grains (aluminium oxide, zirconia or ceramic aluminium oxide). Klingspor carries a matching disc with self-fastening backing for each of these variants, including the specially designed HST 359 backing pad for self-fastening discs. The backing pad has been designed for medium sanding and polishing applications.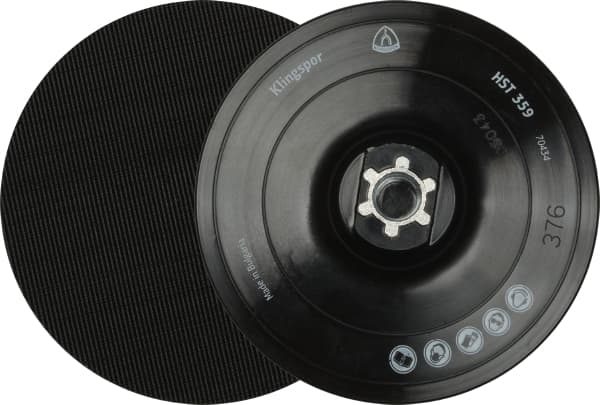 Want to become a Distributor?
Speak to us today about our full product range