HF 100 Carbide Burr Steel Working Set
Product Description
The set HF 100 Steel by Klingspor comprises burrs that offer a serration optimised for processing steel and cast steel. The used high-performance toothing shows a significantly higher cutting performance than the usual standard cross-toothing. The set is a 5-piece set of burrs that comes in Klingspor's handy screw box and includes:

HF 100 A,
HF 100 C,
HF 100 D,
HF 100 F, and
HF 100 L.

The box allows for the secure storage of the carbide burrs. This product comes in handy during both professional and commercial applications and the realisation of projects undertaken by do-it-yourselfers.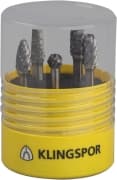 Want to become a Distributor?
Speak to us today about our full product range