3M™ Protective Coveralls 4545
Product Description
3M™ Protective Coverall 4545 is made with a sophisticated bicomponent non-woven which offers high tensile strength and is covered with an ultra-low linting microporous laminate to provide an excellent barrier to hazardous splash, infective agents and particles.

Wear 3M™ Protective Coverall 4545 for an effective barrier against liquid splash, certain chemicals and hazardous particles. This fresh white 3M protective coverall 4545 meets a variety of standards for chemical protective clothing including EN 14126 Infective agents, EN 1073-2 Nuclear particulate resistance, EN 1149, EN ISO 13688, Type 6 Liquid Splash EN 13034 and Type 5 Dust EN ISO 13982-1. It's made with a sophisticated bicomponent non-woven which offers high tensile strength and is covered with a microporous laminate which allows heat and moisture to evaporate through the micropores. The material has a notable feel and drape allowing for longer periods of wear, allowing you to get your job done in comfort. Knitted cuffs, elasticated waist and ankles make the wearer more comfortable and increase freedom of movement, while the ultra-low linting material reduces environmental contamination. Its 3-panel hood design is compatible with additional PPE (Personal Protective Equipment). The 2-way zips and fully sealable storm flaps reduce the risk of skin exposure and protection from contaminants. Strong stitched and partially bound seams reduce the risk of leakage and skin exposure and can offer improved strength. The coverall is also coated with Anti-static EN 1149 which reduces static discharge and can reduce the risk of sparks and ignition.

Designed to be comfortable but highly protective to CE Category III, Type 5/6 hazardous dusts and limited liquid splashes.
Soft and light, ultra low-linting laminated microporous material that drapes and hangs well over the body facilitating ease of movement.
3-panel hood, 2-way zip and storm flap with sealable tape with elasticated back and ankles to reduce the risk of skin exposure.
Knitted cuffs and elasticated waist and ankles for increased comfort and freedom of movement.
Applications
Asbestos inspection
Site preparation
Insulation
Cleanrooms
Light industrial cleaning
Machine maintenance
Painting & coating
Resins
Pharmaceutical processing
Handling toxic powders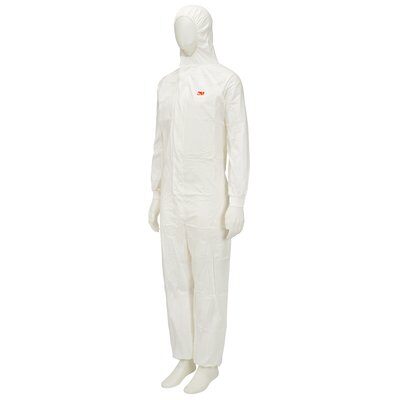 Specifications
Closure Type
Two-way Zipper
Hazard Type
Certain limited splash and solid airborne particle protection (Type 5 & 6)
Material
Laminates
Product Type
Protective Coverall
Size

S

, XXL

Standards/Approvals

CE Category III

, EN 1073-2 Particulate Radioactive Contamination

, EN 1149-5 – Electrostatic Properties

, EN 13034:2005+A1:2009 Type 6 Liquid Splash

, EN 14126 – Infective Agents (Biohazard)

, EN ISO 13982-1:2004 Type 5 Hazardous Dusts
Want to become a Distributor?
Speak to us today about our full product range