3M™ PELTOR™ WorkTunes™ Pro FM Radio Headsets
Product Description
3M™ PELTOR™ WorkTunes™ Pro Headset helps protect you from potentially harmful workplace noise while at the same time enjoy listening to the built in FM radio. The built-in antenna, fast digital tuning and ability to store stations makes the hearing protector flexible and easy to work with.
3.5 mm listen only stereo input (limited to 82 dB) for connection to external devices (e.g. mobile phone, radio, two-way radio and iPod)
Auto power off turns headset off after 4 hours of non-use, to save energy and a low-battery warning informs you when to change batteries
To reduce the corrosion caused by sweat the electronics are located in the outer part of the cup
Store up to 5 stations on the headset
Applications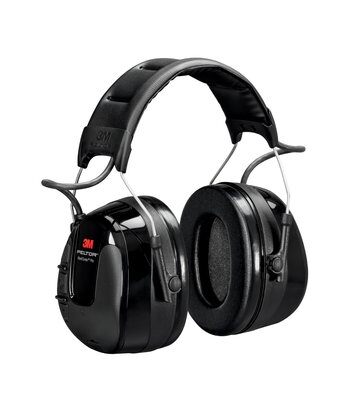 Specifications
Attenuation

31 dB

, 32 dB

Attenuation rating (HML)

H= 33, M=28, L=21

, H= 34, M=29, L=22

Battery Life
40 hours
Communication Type
FM Radio
Connection Type
3.5mm Stereo Plug
Function
AM/FM Radio
Hearing Protection Style

Headband

, Helmet Mounted

Net Weight 

353 g

, 371 g

NPVI Mktg
Yes
Product Color
Black
Product Series
Radio
Standards/Approvals
CE Approved
User Type
Industry
Want to become a Distributor?
Speak to us today about our full product range