One of our most versatile 6 Mil exam nitrile gloves, the Powerform®, now featuring EcoTek® Biodegradability, provides the perfect blend of control, toughness and consistent quality in a standard 9.5" length. Ergonomically optimized with a soft nitrile formulation and 1.5 AQL for high-performing, comfortable protection.
The Powerform® is Dermatalogically Approved by the Skin Health Alliance and has met stringent standards that ensure skin safety.
Features & Benefits
EcoTek® biodegradable in a landfill to ASTM D5226-12
1.5 AQL offering high-performance protection
Silicon-free formulation prevents contamination
Beaded cuff allows for easy donning and removal
Fully textured surface provides excellent wet and dry grip
Skin Health Alliance accredited
Touchscreen Compatible
Environments
Chemical Environment
Dry Environment
Oily or Wet Environments
Industries
Agriculture
Automotive
Chemical
DIY
Fabrication
Facilities
Food
Garden
Janitorial
Light Assembly
Packaging
Pharmaceutical
Utilities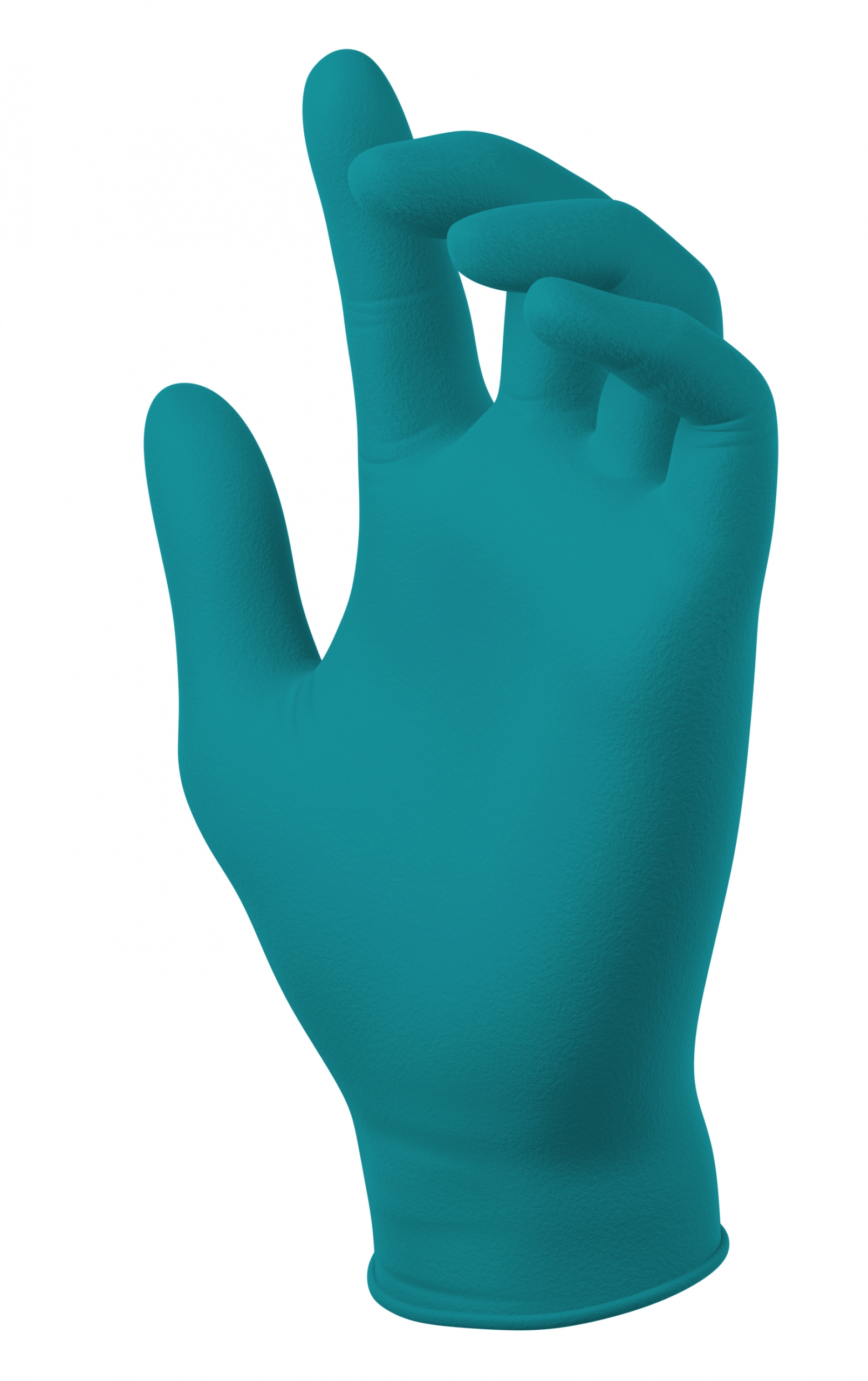 Technologies
Specifications
| | |
| --- | --- |
| Construction | Nitrile |
| Colour | Teal |
| Fingertip Thickness | 0.15mm |
| Palm Thickness | 0.13mm |
| Length | 242mm |
| Tensile Strength | 21MPa |
| Elongation | 560% |
| Sizes | 7 (S) – 11 (XXL) |
| AQL | 1.5 |
| Powdered / Powder Free | Powder Free |
| Pack Qty | 100 |
| Box Qty | 1000 |
Standards & Compliance
ASTM D5526-12
ASTM D619-10
ASTM D6319-10
EN 420:2003
Reach EU 1907/2006
Cat. III Complex Design
Food Approved: Yes
FDA 21 CFR 177.2600
EN 374-1:2016 Type B – JKT
EN ISO 374-5:2016 – Virus
CE 0493
Skin Health Alliance Approved
EAC TP TC 019/2011
TECHNOLOGIES INSIDE THIS GLOVE
SW EcoTek Biodegradability Technology:
EcoTek is an important technology SW has developed in support of global sustainability initiatives. The new technology dramatically accelerates biodegradability of our nitrile gloves ultimately in landfills.
Gloves are the Same, Only Better:
SW nitrile gloves updated with EcoTek Biodegradability Technology deliver the same performance and comfort as the non-EcoTek gloves, but are rapidly biodegradable in landfills.
Rapid Biodegradability:
SW nitrile gloves with EcoTek biodegrade in landfills through the action of naturally occurring microorganisms. Long term landfill biodegradation testing according to ASTM D5526-12 has reported 92.6% biodegradation of our gloves with EcoTek in only 945 days. Non-EcoTek nitrile gloves exhibited virtually no degradation (up to only 1.1%) during the same period. ASTM D5526-12 test results do not predict future biodegradation.
Contribution to Global Sustainability:
SW's EcoTek Biodegradability Technology ultimately reduces waste, saving valuable landfill space by facilitating the breakdown and return of nitrile gloves to nature in timeframes that can be measured in months and years rather than centuries.
Want to become a Distributor?
Speak to us today about our full product range