A60TZ St Steel Cutting Wheel
Product Description
Kronenflex cutting A 60 TZ Special are free of iron, sulphur and chlorine. They are further distinguished by their fast cutting times, allowing the user to finish their work in exceedingly short time. Another benefit is the minimum burr formation, doing away with the need for extensive rework. Finally, the product also keeps the thermal load on the material to be processed at a minimum. Users opting for the Kronenflex cutting-off wheels A 60 TZ Special will be able to achieve perfect results on steel, stainless steel and non-ferrous metal in exceptionally short time. They are supplied in a tin with viewing window, which keeps them protected from dirt, moisture and damage caused by improper handling. The tin offer the best storage solution for the wheels as preserve their positive characteristics for a very long time.
For use with angle grinders
Applications
Stainless Steel
NF Metals
Steel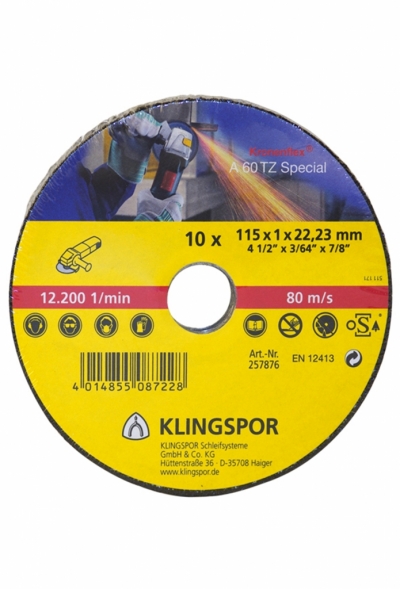 Specifications
| | |
| --- | --- |
| Diameters Available | 115,125 mm |
| Packing Unit | 1 Assortments of 10 wheels |
| Structural shape | Flat |
| Thickness | 1 mm |
| Bore | 22,23 |
| EN conformity rating | EN 12413 |
Want to become a Distributor?
Speak to us today about our full product range